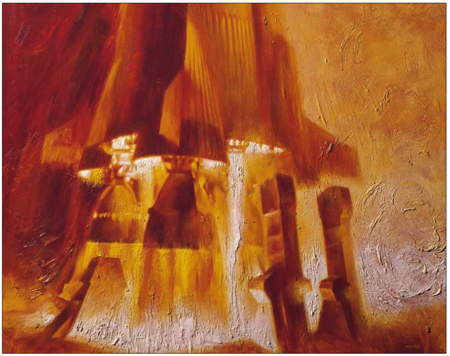 Welcome to my new blog. I'm going to be talking about space exploration, and why after more than half a century it's still one of the things that makes me glad to be alive.
This painting of the liftoff of a Saturn V moon rocket, Power to GO by the supremely talented artist Paul Calle, does a lot to show why I feel this way. It's not just the sheer intensity of the moment, or even the incredible ingenuity that went into actually creating a moonship and getting it to work. It's what it says about us humans, and our dreams, and what we're capable of accomplishing when we pull together.
And it's about where that rocket is going. Even now, when I think of the fact that the moon is no longer just a light in the sky but a place where people have been, and will return to, I feel the thrill of being on a grand continuum of exploration. I feel thankful that as a teenager I got to witness the voyages of Apollo as they were taking place, and that as an adult I could tell the story of Apollo through the eyes of the astronauts. Ultimately, one of the things that really "lights my candle," to use Apollo 12 moonwalker Pete Conrad's phrase, is the story we are all living through. It's a story that has already spanned generations and will continue, I firmly believe, as long as humans exist, one that provides a spectacular context to our day-to-day lives.
What a story, and what a time to be alive.