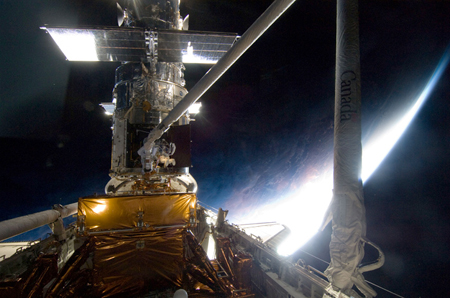 In December 2003 I took part in a closed-door roundtable discussion on NASA's goals in space and how to relate them to the public, led by then NASA administrator Sean O'Keefe. Among the participants was filmmaker Jim Cameron, creator of such epics as Titanic, Terminator, and the upcoming Avatar. At one point, as I was voicing my frustration at NASA's past failures to communicate its activities in a compelling way, Jim zeroed in on the real problem. "It's not enough to tell the story," he said. "You have to have a good story to tell."
I thought of Jim's comment the other day when I was watching spacewalking astronauts of the shuttle Atlantis repair and refurbish the Hubble Space Telescope. I sat there in front of my computer–none of the kaleidoscope of channels on Comcast were covering the event–and watched live video of the astronauts performing the equivalent of brain surgery on the beloved telescope, transcending the limitations of bulky spacesuits and stiff, pressurized gloves in an extraordinary weightless ballet. And once again, as I always do when the space program is at its best, I felt amazed, inspired–and grateful.
In short, I felt the way I almost never do any more when I watch astronauts working in space, even when the tasks are just as challenging, the views just as magnificent. Fixing Hubble, giving it new life and new capabilities, is the kind of thing that's worth the cost and the risks of sending people into space. What we've gotten from that orbiting discovery machine, aesthetically as well as scientifically, is priceless. Yet, for all the engineering magnificence of the International Space Station–and, for that matter, the shuttle itself–it's hard for me to avoid the feeling that all those flights, those countless hours of station-contruction spacewalks, haven't gotten us much farther along the road to new explorations, new discoveries. Maybe someone out there will convince me I'm mistaken. But right now, I long for more missions like the Hubble repair, more good stories to tell.