Air and Space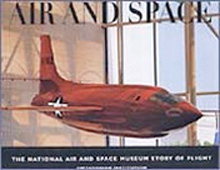 Published by Bulfinch Press, 1995
Pitched to visitors, actual or potential, to the Smithsonian's aeronautics museum in D.C., this album connects the artifacts on display with a brief history of air and space flight. Chaikin, whose A Man on the Moon (1994) is a consuming account of the Apollo program, doesn't have quite as much writing room in this predominantly visual celebration, but his captions and narrative are laconically informative, playing up odd facts about the planes.
He recounts the Wright brothers' success (to which the Smithsonian can lay minor claim, having given Wilbur some pamphlets on flying–following his assurance he wasn't a "crank"), the flamboyant deadliness of World War I dogfighters, the barnstorming and racing days of the 1920s and 1930s, and the infancy of commercial aviation, the famous DC-3 being its midwife.
A few photos, as of the DC-3, show the vehicle in its exhibit hall, but most pictures depict planes or rockets in action, right up through the latest images of the space age–Mars as viewed from Pathfinder. An enthusiast's delight.
– Booklist