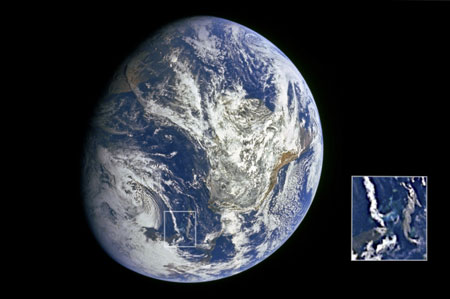 This picture marks a turning point for the human species: It's the first photo made by a person that shows the entire Earth. It was taken by astronaut Bill Anders on December 21, 1968 from the moon-bound Apollo 8 spacecraft. If you're having trouble figuring out what you're looking at, don't feel alone: Anders was confused, too, at first. You have to turn your head 90 degrees to the left to realize that the landmass to the right of center is South America, with North America above it, hidden by clouds, and the tip of western Africa about to disappear into night. Inside Apollo 8, Anders did something even better: he turned his entire weightless body until the view through the window suddenly became familiar.
When I interviewed Anders in 1987 for A Man on the Moon, I showed him this picture. He drew my attention to a small blue-green patch just off the tip of Florida: The shallow waters of the Bahamas (see inset). Anders called it "a turquoise jewel that you could see all the way to the moon…. It was like it was illuminated, like a piece of opal. And you could see that all the way. And I kept being amazed by that."
I love that quote, and I made sure to include it in Voices from the Moon. It's an explorer relating a very human moment during the most extraordinary of experiences. When I think about it, I get that precious feeling that I'm almost there myself. I feel an almost overwhelming sense of gratitude for the amazing recollections of Anders and the other men who went to the moon, and for the chances I've had to share those memories with everyone else.